Blackbeard, Edward Teach, Blackbeard the Pirate
The King of all Pirates

Interesting Blackbeard Facts:
- Blackbeard was always well-armed with three braces of cocked and primed pistols, daggers, and two cutlasses.
- It is said that he had around 14 wives; weddings aboard ship were common.
- He once had himself and several crewmembers locked in the hold with burning pots of brimstone to see who could withstand the fumes the longest, and Blackbeard won.
Blackbeard and: Reputation / Birthplace / Stede Bonett / Final Battle
It is truly ironic that very little is known with certainty about the most famous, most notorious pirate ever. Eyewitness accounts state that Blackbeard was a large, tall man with a long black beard which he braided and tied with ribbons. To add to his imposing looks, he would light cannon fuses that had been dipped in lime water or salt peter and stuff them under the edge of his hat (some say in his beard). The smoke would encircle his head and certainly give him an intimidating flair.
It seems that Blackbeard rarely passed by an opportunity to build his reputation and persona as a devilish fiend, but first hand reports seem to suggest that was more of a carefully crafted tool of the trade. Most accounts suggest that he was generally kind to those who were cooperative with him but intolerant of those who were not. There is no record, however, of his murdering anyone in his plundering.
The true identity of Blackbeard differs between official records, personal accounts, and fictionalized history. Edward Teach or Edward Thatch or Edward Drummond was most likely born in Bristol, England around 1680 (Although some unverifiable reports say he was from Jamaica, London, or Philadelphia). Like many other young men of his time, he probably served aboard a British privateer in the West Indies during the War of the Spanish Succession (Queen Anne's War) and chose piracy over unemployment at war's end.
He arrived in New Providence, Bahamas in 1716 as an understudy of Benjamin Hornigold, and after a year of successful apprenticeship had acquired his own ship - the French slaver 'Concorde'. It was renamed the 'Queen Anne's Revenge' and fitted with around 40 guns. Queen Anne's Revenge Restaurant
The reports in 1717 of new governor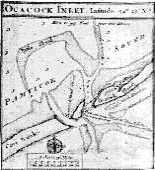 Woodes Rogers' soon arrival and crusade against pirates brought differing reactions from Blackbeard and Hornigold. Blackbeard would head north to North Carolina and Hornigold would receive pardon and become the commander of an anti-piracy fleet. The village of Bath Town became his new home in January of 1718, the town being a good place to sell plunder and to perhaps settle down. He sought a pardon and protection from Governor Eden, who welcomed the economic boost the pirates brought to the area.
Blackbeard was so amused when meeting gentleman pirate Stede Bonnet in late 1717 or early 1718, he took him into his company and added Bonnet's sloop the 'Revenge' to his flotilla. He was now in command of four ships and over 300 men. In May he captured the pilot boat and several ships off the port of Charles Towne, South Carolina and then set up a blockade, where he held important citizens as ransom in exchange for medicine. The pirate's brazenness was wearing the locals' patience very thin. They nevertheless gave him a chest of the medicines he demanded.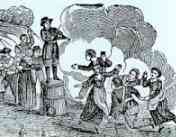 Blackbeard wanted to part ways with Stede Bonnet and most of his crew, so the recently-acquired loot would divide to larger shares. With Israel Hand's help, he staged the loss at Topsail (now Beaufort) Inlet, NC, of the 'Queen Anne's Revenge' on a sandbar and the 'Adventure' in rescue attempt. Bonnet went to governor Eden for a pardon with plans to privateer out of St. Thomas. Blackbeard himself then proceeded to Bath Town, perhaps received a second pardon, sold his loot, and bought a house. He spent the summer of 1718 trying out the lifestyle of a regular citizen but only managed to slowly irritate his neighbors. For them, the last straw came when he held a weeklong party with many other pirates at Ocracoke in October.
In November 1718, Virginia governor Spottswood sent lieutenant Maynard with two sloops to attack Blackbeard, but both sloops were temporarily grounded in pursuit. After Blackbeard killed several of Maynard's men with grapeshot and grenades, his sloop Adventure was grounded, but he nevertheless boarded from thinking he had the advantage in men. Maynard's remaining troops rose from hiding spots in the hold and a fierce fight ensued. During the mighty struggle, Maynard himself shot Blackbeard in the shoulder, and another officer slit his throat. The officer then nearly decapitated him with a second blow.
When Blackbeard's body was inspected, it showed more than 25 wounds, including 5 from gunshots. His severed head was put on the bowsprit of Maynard's ship, which sailed back to Williamsburg with the remnants of the crew in custody. Thirteen of them were hung there in March 1719.