Captain Kidd, Pirate Captain Kidd, Captain William Kidd

The Pirate's Realm - Captain Kidd facts:
Captain Kidd allegedly buried his family Bible near Plymouth Sound before his fated voyage. - Kidd buried a large amount of his personal take on Gardiner's Island, at the eastern end of Long Island. - Out of his many years of privateering voyages, only one involved piracy, and that produced only one large haul of loot.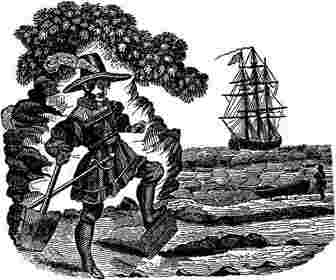 In this article:Life in New York / A Bad Deal / Turning Pirate
Captain William Kidd - Pirate Hunter turned Pirate
Captain Kidd has the unfortunate distinction of being remembered more for his fate than his success as a pirate. He was born about 1645 in Scotland

Buy Flag (more info) and likely spent his early years as a sailor. After coming to America as a young man, he had great success as a merchant and a privateer, and by his early 40's, he was considered among the ranks of the elite.... a friend of no less than Governor Benjamin Fletcher.
In 1689 while serving aboard a privateer in the Caribbean, he stole the ship, was elected captain, and named it Blessed William. Perhaps he wasn't the best of company, for the crew quickly deserted him when they decided to turn pirate.
Captain Kidd returned to New York and married a widow through whom he acquired valuable property in the heart of the city. His prestige increased after successful privateering raids off the coast during England's war with France.
Pirates in New England
In 1695, he was in London seeking more privateering work but was talked into a questionable deal by the new Governor of New York and Massachusetts, Richard, Earl of Bellomont and fellow New Yorker Robert Livingston. Kidd was given command of the new 34-gun Adventure Galley, a letter of Marque to attack pirates and French East Indian Co. ships in the Eastern Seas, and a sketchy agreement to allow piracy on the side for extra income. Kidd protested any taint of piracy, but eventually gave in to the pressure and threats of the backers.
Captain Kidd's journey appeared doomed from the start. In May of 1696 while leaving London for NY to recruit more crew, he insulted two Royal Navy ships by not lowering his flags in respect, and his crew showed their backsides. The Adventure Galley was immediately boarded, and the best of the crew were taken off to serve elsewhere.
Summer was spent in New York gathering a crew of 150, which unfortunately was made of men who would sooner be pirate than privateer. After leaving in September, a journey of several months brought Kidd to Madagascar, and in this area he careened his ship, lost 50 crewmembers to disease, and ran low on supplies. By May, the pressure broke in upon him, and he forsook his mission, deciding to turn pirate instead of pirate hunter.
After two failed attempts at capture, he took a small prize before repairs in the Laccadive Islands. Late in 1697, a fight broke out as gunner William Moore accused Kidd of being evasive in two run-ins with heavily armed ships. The result of the argument was Kidd hitting Moore in the head when he threw a steel-banded bucket at him. Moore died of skull a fracture the next day.
Things went from bad to worse in January 1698, when Captain Kidd lost all hope of pardon or redemption after being labeled a pirate by the East India Co. for taking of the heavily laden Quedah Merchant. After more lackluster results from piracy, he traded the rotten Adventure Galley for the Quedah, now named Adventure Prize. He sailed to New York hoping for a king's pardon through Bellomont, but a stop in the Leewards proved it would be out of the question. Several of Kidd's crew discovered that a warrant was out for their arrest along with him. In hopes of becoming less conspicuous, the Adventure Prize was grounded and her contents transferred to the newly purchased sloop Antonio.
After arriving in New York, Kidd buried as well as gave away a large amount of his loot. Lord Bellomont misled him into believing a pardon would be forthcoming, yet after Kidd arrived at his offices in Boston, he was quickly arrested and sent to London for trial.
In March 1701 after a year in prison at Newgate, a series of swift Admiralty trials ensued. The man now called the pirate Captain Kidd refused to turn state's evidence, his backers had 'lost' all incriminating documents, and he was hung for murder and piracy on May 23. His body was tarred and hung in a cage by the Thames River where it remained for several years as a warning to all others who would consider piracy.