Sir Francis Drake- Pirate Francis Drake

Interesting Facts-
- His capture of the Manila Galleon Cacafuego produced enough treasure to pay off England's debt.
- One of the first to circumnavigate the globe
Francis Drake was born in 1540 to a farming family in Plymouth, England. His first sailing experience was as a young man aboard merchant and later slave ships as a navigator. In late 1567, he traveled with his cousin John Hawkins on a slave trip to the Spanish Main, which was attacked before returning by the Spanish Treasure Fleet galleons at San Juan de Ulua. Drake and Hawkins escaped with their vessels but lost the Queen's flagship Jesus of Lubeck, as well as the proceeds. What turned out to be Hawkins' last major expedition was only the first for Drake, who in the next decade became a one-man wrecking crew to Spanish interests in the New World.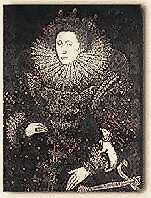 In a series of privateering raids, Drake was commissioned in 1570 by the Queen to sail to America with two ships and some 70 men furnished by his cousin Hawkins. He had little success at first in his concentrated efforts against Spanish colonies and shipping, but persistence paid off in his second attempt to capture the annual mule train carrying Spanish gold and silver across the isthmus of Panama.
Although he brought back the equivalent of millions, the Queen could not openly sanction the work of the one she called, 'my pirate' after a peace treaty was signed with Spain. The man the Spanish would call, 'The Dragon' decided to lay low until the climate was more favorable.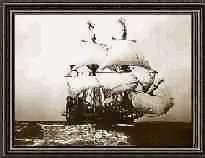 In 1577, Drake was sent with five ships and the Queen's blessing to sail down the African coast before heading to South America. A storm at Cape Horn convinced those whose ships did not sink to return home, leaving explorer Francis Drake to himself in the Golden Hinde. He went up the left coast of South America, sacked Valparaiso, and kept bearing north.
In March 1579, Francis Drake captured with one shot one of the largest hauls of all time; the Cacafuego galleon yielded enough gold, silver, and jewels to put England's economy in the black. It took four days just to transfer it to the Golden Hinde's hold. Drake sailed to the coast of California, did some surfing, and then headed west to arrive in England by September 1580, the first to circumnavigate the globe. The Queen knighted him in 1581.

Buy Flag (more info) An expedition five years later led to the capture of Santo Domingo, Cartagena, and Saint Augustine, but produced little in terms of wealth. Sir Francis Drake also played a major role in the defeat of the Spanish Armada in 1588. His last expedition was in 1595 when he led a force of 27 ships in a failed attempt to capture Panama.
In February 1596, Sir Francis Drake died at sea of a fever disease and was buried at sea with a cannon's salute. His cousin John Hawkins had died earlier on the same journey.
New! Drake's Great Armada, by Captain Walter Biggs