Port Royal, Jamaica, Pirate Hideout

Port Royal sits just south of Cuba on the southern coast of Jamaica. It was founded by the British, who after gaining control of the island from the Spanish in 1655, began fortifying the settlement next to the deep harbor which eventually would hold as many as 500 ships.
Pirates in the Caribbean
Port Royal, Jamaica
Out of fear of Spanish invasion, buccaneers were drawn away from nearby Tortuga to help discourage attack, and after peace with Spain in 1660, those same buccaneers easily acquired letters of marque to plunder their merchant ships.

The early 1670's began a twenty-year boom where Port Royal became a large and busy port rivaling even Boston- a city of over 7000 practically overrun by buccaneers who were as despised for the drunkenness and prostitution as they were loved for their loot.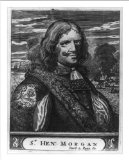 Most notable among the Port Royal pirates was Henry Morgan, whose sacking of Panama ironically led to a change of British policy toward their main source of income. A new anti-piracy law in 1681 and a new governor brought convictions and executions of the illicit merchants as their attacks began to include even English ships.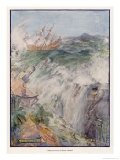 The final blow came on the morning of July 7, 1692, when a massive earthquake and following tidal wave brought widespread destruction. Two-thirds of the city fell into rubble or sank into the sea.
Port Royal Today-
Today, the small fishing town near Kingston is a well-known tourist destination for pirate enthusiasts, and nautical archeologists as well as treasure hunters regularly survey and make valuable recoveries from the sunken site that was once called the Sodom of the New World.